Home
>
English
>
Desktop
>
recipes
>
Grilling salmon
Salmon is both healthy and tasty. It's one of the easiest foods to cook on the Hobogrill HG2 and also can provide a more satisfying portion size for a small footprint. Salmon, as with all meat you'll discover, tastes best when cooked within a centimeter of the charcoals. It really seals in the essential oils and flavors of Salmon with the essential oils and smokey flavor that is so pleasing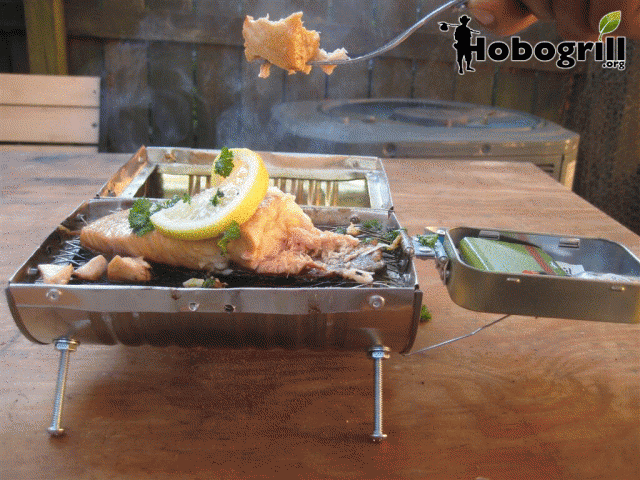 Pros
Cons

Nice Portion Size
Can be eaten directly from the Hobogrill (no plate needed)
Tastes great with or without spices
Ingredients
Salmon with skin on
Garlic powder (optional)
Onion powder (optional)
Ground Cayenne Pepper or Black Pepper (optional)
Lemon (optional)
Green Onion Tips or Cilantro (for garnish)
Tools and Utensils
Hobogrill HG2 Series portable grill or equivelent
Fork
Coal Preparation
For this operation we are going to want to have intense heat for a period of 7-15 minutes. The coals should be such that to produce intense heat either fresh charcoal with small uniform pieces. Saturate individual coals thoroughly with fluid from the lighter tin. Wait 1 to 2 minutes, then re-saturate and light. How hot the coals get depends on the many factors such as available oxygen which can be relatively low in the mountain tops with no wind and relatively high by the sea with high winds.
Cooking Instructions
Place salmon on the Hobogrill skin side down. Carefully sprinkle the garlic powder, onion powder and pepper on the raw salmon while it's on the grill. Close the lid for 4-10 minutes checking periodically to ensure the fish is thoroughly cooked.
Note: The white stuff that sometimes comes out of salmon when you cook it is called albumen.
Garnish
A quick and simple garnish is some dark green edibles such as cilantro, parsley, chopped green onion, or chives. Paparika for color and a lemon wedge. It's alright to experiment with the order of which you put these things on.


#hobogrill #salmon #skinon #


14